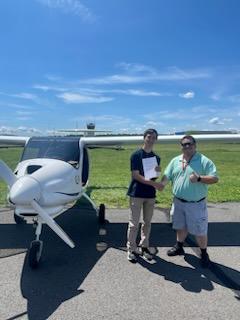 The third Ray Scholar sponsored by EAA Chapter 166 in Hartford, CT, passed his sport pilot checkride on August 2, 2023, and is now a certificated pilot. William T. Coates (above on the left) of Marlborough, CT, won the unique full-scholarship opportunity for flight training, thanks to EAA Chapter 166 of Hartford and the Ray Aviation Scholarship program administered by the Experimental Aircraft Association in Oshkosh, Wisconsin. Will trained at the Learn 2 Fly CT LLC Flight School based at Brainard Airport in Hartford. He will continue his aviation journey at Embry Riddle Aeronautical University this fall.
Congratulations to Will! Thanks also go to Will's parents, Rick Montero (Will's Ray Scholar Coordinator at EAA Chapter 166), his flight instructor A.J. (of Learn 2 Fly CT LLC), and the EAA 166 family that has supported Will and our two previous Ray Scholars.
The James Ray Aviation Foundation funds these Scholarships with the intent of helping young people embrace the life skills required to become a pilot, and to use those skills in their everyday lives. Since its introduction in 2019, the EAA Ray Aviation Scholarship program has allowed over 180 young people to complete their flight training and receive their pilot licenses. The program has been consistently meeting and exceeding its expected 80% success rate each year.