Check in weekly for updates!!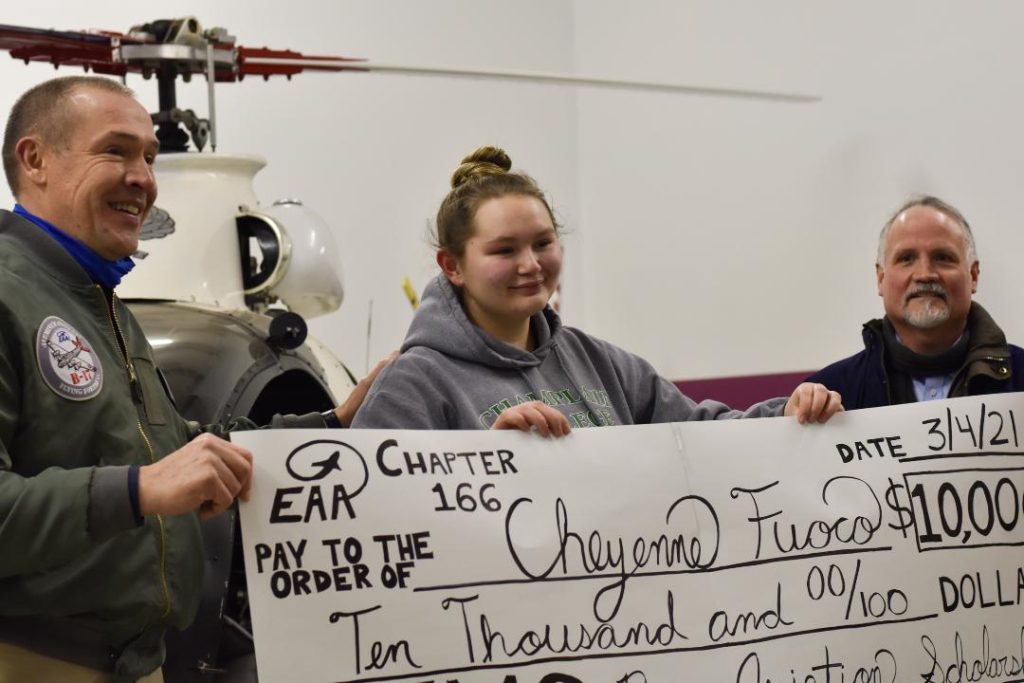 Cheyenne Fuoco, EAA 166 Student Member and future Professional Helicopter Pilot, is the recipient of the $10,000 Ray Aviation Scholarship to help Cheyenne begin her journey by first becoming a fixed-wing Private Pilot!
Cheyenne received the Ray Scholarship on Thursday, March 4, 2021!
James Ray, who passed away on April 1, 2017 at the age of 94, believed the self-discipline and self-confidence he learned during flight training helped him achieve success in life and business. He felt strongly that these traits and assuming responsibility for one's own actions are learned skills and important character traits that can make one free to pursue their dreams.
"The Ray Aviation Scholars program through EAA aims to meet two immediate needs — the growing demand for pilots and those in aviation careers, and the financial burden that often keeps young people from completing flight training," said Chuck Ahearn, president of the Ray Foundation. "The pilot community found within EAA chapters is the perfect group to provide the support and mentorship that will significantly improve the flight training success rate."
We know Cheyenne already demonstrates the character traits James Ray spoke of, and that she will continue to develop her self-discipline and self-confidence as her journey in aviation begins!
CONGRATUALTIONS Cheyenne!
What is Cheyenne working on?
5/16/21
Hi everyone! This week I focused mainly on landings, as this is the last thing I will need to master before I solo. My goal is to solo by the end of May, which I am on the glide path for. I flew Wednesday, Thursday, Saturday, and Sunday this week, as it was beautiful almost everyday! I am currently at 19.8 hours of in the air flight training and 14 hours of ground instruction. As I get closer to soloing I am also spending time getting ready to take the written exam. My goal is to take the written exam by the end of June, but hopefully sooner. Overall, this week was very productive and I even got to fly through some unexpected bad weather that we had on Sunday, which was quite the experience!